Geppert Picks Up Dumpster Bags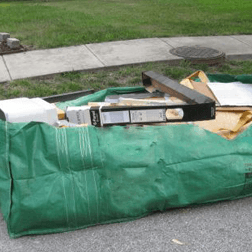 The Dumpster bag is the perfect solution for smaller projects that don't require the space of a full-size dumpster. Compact when purchased at your local hardware store, these duffel bag like containers are perfect for your improvement projects. We will pick them up from your home or job site and recycle your waste.
PURCHASE
Buy your dumpster bag at your local home improvement retailer.
ADD WASTE
Great for renovations, remodeling, organizing the garage or attic. Simple to set up and holds up to 3,300 lb of debris or waste.
CALL GEPPERT
Call 215-842-0122 to schedule a pickup
Soft sided dumpster bags are also known as Flexible Intermediate Bulk Containers (or FIBCs). They are also referred to as construction debris bags, bulk bags, junk bags, portable dumpsters and fold up dumpsters. These resilient bags are made from a woven, flexible material that is strong enough to handle most construction projects. These debris bags are heavy duty, and make construction waste disposal easy for contractors, homeowners, renters, and businesses alike!
Fits where dumpsters can't…
Dumpster bags are portable and are great for tight jobs and in urban areas!
Available anytime…
Dumpster bags are compact and store small until needed.
Cost Effective…
Junk bags often costs less than a dumpster. They are also many times cheaper than a removal service! Consult with Geppert first to determine the best option for your project.
No rental fees!
One time purchase price gives you the option to use it when you need it. Geppert Recycling only charges to haul and dispose of the waste. Always fair and honest pricing from Geppert Recycling.
No rush!
No need to race against the clock to have it filled. Since there are no rental fees, take as long as you want to fill it!
At Geppert Recycling, we pickup ALL dumpster bags…even competitors! Call us today for a free consultation and quote to remove your dumpster bag.